What better place to travel to with an infant?
Whether you are a crazy hippy who loves yoga, a beer loving beach bum or a shop-a-holic; Bali will be able to fill your boots.
This place has it all, and you can live like a King (or Queen – yas kween!!!) on a budget. The locals are friendly and love kids. They have amazing food (not withstanding the Bali belly delights) and the weather is always so bloody glorious.
Getting There from NZ
Air NZ and Emirates operate direct flights from NZ over winter, and you can bag a bargain if you are flexible on dates. Keep an eye on Grab-A-Seat as they do lots of last minute sales to fill the plane. But remember it is a popular route and it does fill up.
So who wouldn't want to go?
Catching up on ZZZ's
The accommodation standards are exceptionally high for an incredible price. We booked an Airbnb at Umalas Retreat, but if you book direct using this code ('RG5'). you save an extra 5%. BONUS!!! You're welcome.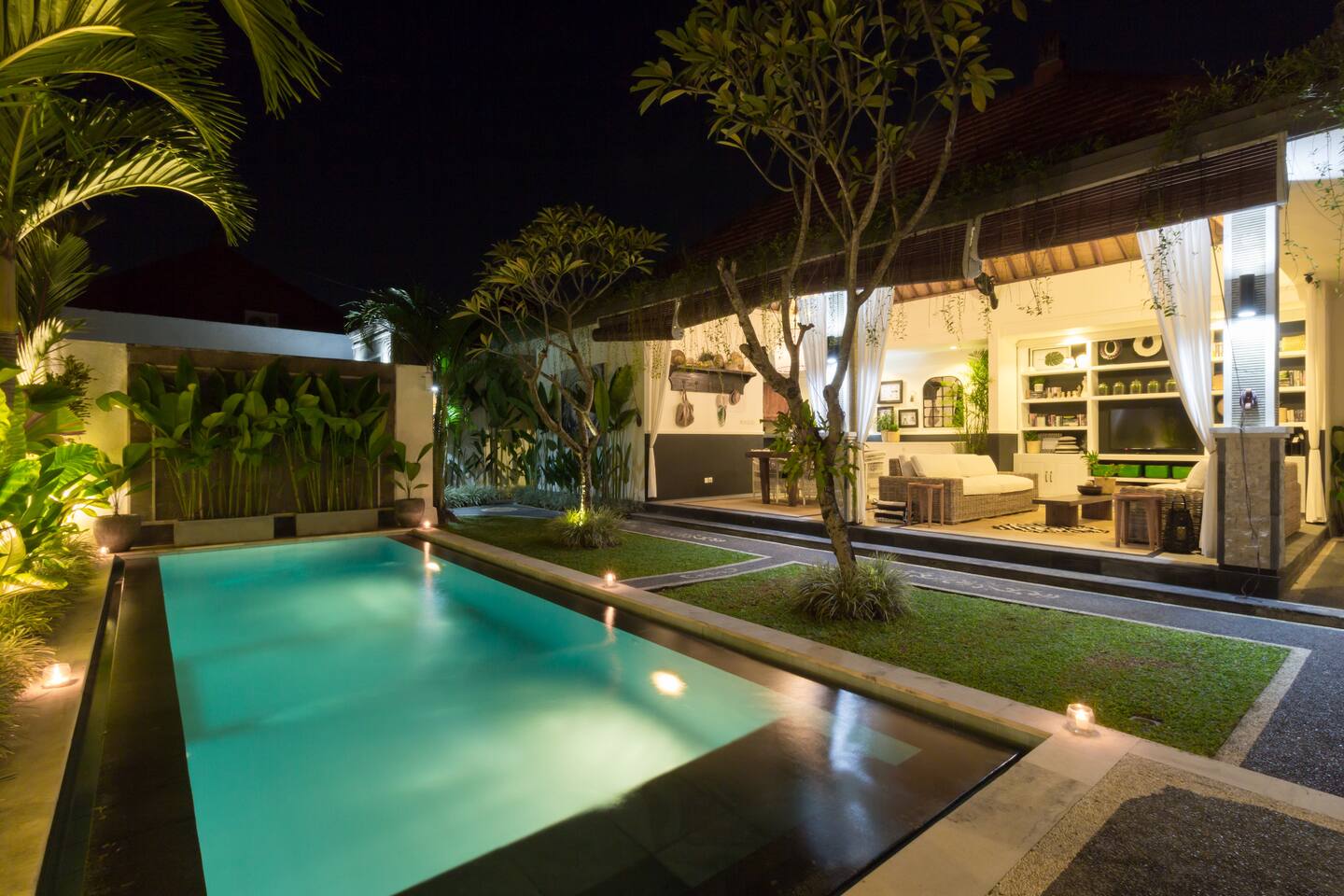 The apartment had we stayed in came complete with a cleaner and chef. Every day we had fresh fruit salad, toast, pancakes or eggs, avocado on toast….or pretty much whatever we wanted.
We then spent the next 20 minutes deciding what we wanted for lunch and dinner. The chef would toddle off on his scooter to the market to pick up our daily supplies and return to start prepping our days meals. The level of quality was exceptional and meant we didn't have to leave the poolside all day. AMAZING!
There is a mini-market only 3 minutes walk from the apartment, and it has everything you need (except dental floss). The booze is expensive, so we brought in our own spirits to make margaritas (of course!). The apartment has a fridge stocked with beers for $2.50 each that you can drink from and pay for each day with your tab. The prices are pretty close to the market anyway and saves you having to buy them. WINNING!
In Villa Massage
You cannot go to Bali and not have a massage. This is 100% a key reason why I love Bali! In villa massage was amazing! We used Casa Massage (0811 3804 020) and prices were pretty awesome compared to NZ ($25 for 90 mins!), but slightly more expensive than if you went into a shop in Bali. But to be honest, it was so worth it and it was 100% legit (opposed to a happy ending – which could have been awks…).
Shopping…
I don't know why, but when I saw the cane chairs on the side of the road of the road I had to have them. As we drove past, I dropped a pin on my google map, as everyone else (Gorge and little Gorge) were ready to go home. So I hired a car the next day and we went on a chair shopping mission. And gurl am I glad we did. We got 4 x cane chairs for $200 NZD when they are normally $300 NZD each in NZ.
Getting them home was Mark's main concern, but I don't think about those sorts of problems. The worst that could happen is we had to leave them in Bali. No biggy.
So I bought them and had them delivered to our villa…I then missioned around the streets trying to find used boxes. Voila…next was to pack them and then get them to the airport. And…..then get them on the plane as 'baggage' hahaha
Long story short, we got them home with no problems and quarantine let them into NZ no questions asked. YAS GURL!!!
A place to whet your whistle
The bars and restaurants in Bali are pretty bloody amazing. Creatives from all around the globe are moving to Bali to live and run businesses. And no more so, than bar and restaurant owners. Here are a few spots we hit during our 10 night stay (bearing in mind we ate in for most meals – because we were lazy and had a chef!).
Kynd Community: Basically I saw hot men taking pictures for instagram at Kynd so we HAD to go. OBVS. And the food was pretty bloody awesome too. It is vegetarian and has some epic (and unhealthy) food.
Strawberry Fields: Fab brunch spot with lots of healthy and delicious options. Good service, amazing breakfast platters and def must do spot for the gram!
Sarong: Don't miss this place if you're in Bali and enjoy a fabulous night out. It is expensive, but if you are a foodie, it is well worth it. As always the crispy pork belly is amaze-balls. As is the creme caramel and chocolate tart. They make a mean cocktail to boot.
Mrs Sippy: Well shit this place is bloody chaos. People getting SMASHED and diving off the diving board mid-afternoon. There are no Health and Safety regulations here and shit I LOVE IT!!
Sea Vu Play: They have drag shows on every Friday with talented performers and clever interaction with the guests. Good food and delish drinks always make a spot worth a visit.
Gelato Secrets: We stumbled across this place after a few drinks at Mrs Sippy. They do some interesting flavours including Strawberry & Aloe Vera sorbet. Prices are expensive but hey, ice cream is worth it!
La Brisa Bali: This place is a-mazing! It is like walking into a tree hut village. Lots of natural materials (woods, hesian bean bags, lots of water)…it is bloody lush. They are right on the beach and the food and drinks are YUMMMOOO….drinks are expensive and they make you pay 200,000 entry fee as min spend but you get through that in your first two drinks.
The Lawn: Right on the beach with an wonderful inviting atmosphere.
The restaurant is nice with gorgeous decor. Drinks & food are on point and the service is quick. It is also pretty good value for the money YAY!
Revolver Espresso: This spot is super small, but the coffee is good (so Mark says). It is popular so it must have good coffee for the lovers.
Sea Circus: This place is super cute for lunch. It is in the heart of it all and it is a big open space with share table seating. They do great margaritas and the food is fresh and yum. It is fun, chilled atmosphere with people relaxing, reading, chatting and getting some respite from the heat.
Some other spots we wanted to visit but ran out of time:
Zibiru Restaurant
Love Anchor Canggu
Warung Dandelion
Sisterfields Cafe
If you have tips on Bali and must dos, please let us know so we can add your recommendations.